Digital innovation is not only evolving the product's features but also the way they are designed and manufactured. To remain relevant in the changing market dynamics, enterprises must continuously strategize ways to optimize operational efficiency and infrastructure costs, improve product quality, and reduce time to market to accelerate overall growth of the business.
Enterprises are required to embrace digital transformation and innovate at a faster rate. However, to achieve this, it is essential to choose the right PLM software. With several PLM options available on the market, it can be a daunting challenge to choose the right PLM software that best fits your business needs. That's why we have picked two industry leading SaaS PLM platforms: Oracle Fusion Cloud and Propel PLM, and we will compare the differences between both solutions so that you can make an informed decision for your next PLM investment.
Disclaimer: GoSaaS is an award-winning Oracle Partner. However, this article doesn't represent the opinion of Oracle Corporation in any way. This article only describes the information available on reliable thought leadership resources and opinions formed by the author for the benefits of the enterprises looking to make PLM software decisions.
1. General Functionality
Propel PLM
Propel PLM is a cloud-based PLM software built on Salesforce. Propel claims to be a highly integrable platform that offers a single source of truth for the entire product value chain, including critical areas such as sales, service, and partners. Its built-in capabilities such as Bill of Materials (BOM), Product Information Management (PIM), Quality Management System (QMS), Project Management, and Engineering Changes claims to design and deliver products with improved time to market while maximizing customer satisfaction and improving compliance.
Oracle Fusion Cloud
Oracle Fusion Cloud is a collaborative cloud-based, PLM 4.0 solution that's built on a software as a Service (SaaS) model. It seeks to help enterprises improve their supply chain processes by structuring and organizing the data and processes that go into developing and commercializing their services and products. Oracle Fusion Cloud aims to assist product innovation for companies by managing information, people, processes, and decisions regarding their products throughout the product life cycle and across the global product networks. Oracle Fusion Cloud is a unified platform across ERP, supply chain management (SCM), supply chain planning, manufacturing, maintenance, IoT, and customer experience that promises to assist businesses in product design, development and launch.
2. Key Capabilities
Oracle Fusion Cloud
Part of Oracle's Fusion SaaS suite, Oracle Fusion Cloud Product Management brings together product innovation, development, lifecycle management and commercialization with the help of:
Innovation Management
Product Development
Quality Management
Product Master Data Management
Configurator Modeling
Project Management
GoSaaS Employee Training System - add-on
Commercialization
Oracle Fusion Cloud has every module to provide innovation, commercialization, governance and compliance to a wide range of businesses.
Propel PLM
The majority of modules in the Propel PLM are quite similar to Oracle PLM. The main modules in the Propel PLM include:
Custom product development
New Product development and introduction
Quality management
Training records and certifications
Supplier management and remote workplace enablement
Legacy PLM and QMS replacement
3. PLM vs. PIM (Product Information Management)
Oracle Fusion Cloud (A comprehensive PLM system)
Oracle Fusion Cloud has all the functionalities for developing a product, and it has also evolved to cater to all the pre-product definition and development processes. These powerful functionalities enable enterprises to capture ideas, collect requirements, manage all your portfolios and proposals all the way to operation and sales management. Moreover, Oracle Fusion Cloud can be directly coordinated into ERP systems and allows collaboration among the internal groups such as R&D, Quality Assurance, Operations and many more.
The efficient administration of product data and therefore the support of engineering processes has become a critical success factor for manufacturing companies today. This also includes the exchange of data between Oracle Cloud PD and CAD systems.
The integration neatly splits the responsibilities of Product Lifecycle Management between the Engineers and Analysts. It provides seamless data flow between multiple CAD systems and Oracle Cloud Product Development (PD) and makes sure that data between the two systems is always in sync.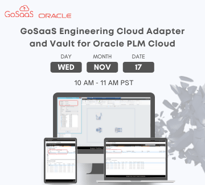 Webinar Replay: GoSaaS Engineering Cloud Adapter and Vault for Oracle PLM Cloud
Learn about the various Mechanical CAD and Electrical CAD integration options available which were built to minimize any disruption for design engineers.
Let's have a closer look at the integrated modules of Oracle Fusion Cloud.
Innovation Management: Provides a platform to analyze ideas in a much more organized way to make better decisions with accurate data and market analysis all in one place.
Oracle Product Development Cloud (PD): Enables businesses to improve their

processes including BOM's

, items and change management.
Quality Management: Allows the user to ensure the quality of the products by identifying key quality issues, inform about possible corrective actions and communicating the changes required to ensure that the issues are resolved.

Product Master Data Management

: Ensures that the data remains consistent and accurate for supply chain, sales and marketing processes while keeping the item data clean.
Configurator Modeling: Simplify the configuration of multi-option, customizable products services and guiding customers to valid product configurations.
Propel PLM (Greater focus on PIM)
It appears that when Propel refers to "PLM," it does not necessarily mean the core "PDM" (Product Data Management) and CAD functions that typically comprise PLM solutions. Instead, Propel focuses on consumer-oriented Product Information Management (PIM) and the partner and supply chain-oriented collaborative capabilities of PLM software. In addition to these collaborative PLM and PIM features, Propel also incorporates a Quality Management System (QMS).
Propel remains focused on company-wide collaboration between engineering, quality, sales, and service. In the realm of PLM, Propel covers the following areas:
Product Definition—customer requests, opportunity integration, extended collaboration, hierarchical bills of materials (BOMs), approved manufacturers list (AML) and manufacturing data, file versioning, costing, compliance, and categories and life cycles
Change Management—graphical redlining, configurable workflows and approvals, and auditable change history
Project Management—tasks and activities, link tasks to products, stage-gate approvals, Agile, Gantt, and list views
In the realm of PIM, Propel PLM covers the following:
Product Definition—data import, data configuration, product compliance, and external collaboration
Product Updates—graphical redlining, configurable workflows, reviews and approvals, and project management
Sales Rollout—XML & API integration, product catalog, training certification and portal access
4. Security
Propel PLM
Propel doesn't own the hosting platform, which includes application servers, database and operating systems. Propel relies solely on Salesforce for performance, which may have an inherent risk associated with it. With an external hosting platform, companies may not be able to manage and monitor the security as they wish. Moreover, all the data may not be managed in-house which might hamper the chances of ensuring 100% data security.
Oracle Fusion Cloud
Oracle leads the industry in providing secure databases to maximize security. From a security point of view, Oracle enhances customer information safety by providing a unique and secure database that is controllable from a hardware to SaaS layer. Oracle Database comprehensively addresses the need for information security by providing cutting-edge security features such as deep data protection, auditing, scalable security, secure hosting, and data exchange. Oracle owns and controls its own data centers, which are not shared with any entity outside Oracle.
The global company, Zoom, recently selected Oracle Cloud Infrastructure due to its performance and security. In addition to this, Oracle has several unique offerings for regulated industries, including break-glass, where a company can control and approve individuals at Oracle that have access to any customer data layer. Lastly, Oracle Cloud can be ITAR compliant, which adds another layer of security.

5. Cost and Implementation time
Oracle Fusion Cloud
The implementation time varies according to the customer's needs. The minimum duration is approximately 13 weeks. The implementation time and cost from on-premise to cloud migration may differ. Oracle doesn't offer free trials at the moment.
Propel PLM
Like Oracle, Propel doesn't offer a free trial; and the implementation time varies according to the customer's needs. Propel claims to have flexible plans that are adaptable and configurable to the current and the future demands of the business.
6. Integrations
Oracle Fusion Cloud
Oracle Fusion Cloud infrastructure has its own highly flexible Integration platform, which doesn't require code changes to update business rules. It is fully integrated with Oracle PLM and has pre-built or partner adapters for numerous systems.
Propel PLM
Propel PLM is fully integrated with Salesforce's offerings, including Sales Cloud, CPQ (Configure, Price, Quote) and Service Cloud. These are integral to connect the product and customer records, allowing manufacturers to build the products their customers want and resolve subsequent product issues faster. The flexibility and extensibility of the platform allows the customers to connect to third-party enterprise software applications such as Enterprise Resource Planning (ERP) and Computer Aided Design (CAD).
7. Upgrades
Oracle Fusion Cloud
Oracle Fusion Cloud has quarterly updates approved and controlled by the customers.
Propel PLM
Propel PLM upgrades are released three times per year.
8. Analytics
Oracle Fusion Cloud
Ad hoc reports, dashboards, alerts and extensive pre-defined reports can be created in Oracle Fusion Cloud using Oracle Transactional Business Intelligence (OTBI). Moreover, report or dashboard features can also be added to a Fusion page through Personalization.
Propel PLM
Propel PLM's analytics functionality enables users to collect and examine cost information received from manufacturers and distributors. Users can input this information into a BOM to analyze and compare costs throughout various products and time intervals.
9. Workflows
Oracle Fusion Cloud
Oracle Fusion Cloud stores information regarding items, parts, products, BOM, documents, requirements, engineering change orders, and quality workflows. The solution also supports attachments and documents. Other than that, not only is the BOM history also stored, but workflows are also customizable. For security purposes, information can be visible based on assigned roles and approval history for change orders can be tracked.
Propel PLM
Propel PLM offers fairly competitive efficiency and adaptability when comparing and supervising product versions. Users can review and contrast revisions without interrupting workflows. This capability enables users to create cancellations and edits of any product traits such as bill of materials (BOMs), pricing, product catalog attributes and structure rules to trace any changes causing delays and improve service efficiency.
10.Change Management
Oracle Fusion Cloud
Oracle Fusion Cloud Quality Management System allows the user to identify quality issues, collaborate on corrective procedures, and consequently, to resolve the procedures timely. This ensures the quality of the products, and in case of any problem, the completion of a systematic procedure. It is a modern, one-of-a-kind management system that helps enterprises create, identify, analyze and correct processes to ensure high quality services and products. Moreover, it also provides the ability to create, manage and perform quality inspections right within the platform and discrepancies may be tied directly to in-system quality issues for investigation and resolution.
Propel PLM
Propel PLM's change management system enables users to adjust their work procedures and monitors product updates throughout the entire value sequence. Similar to Oracle Fusion Cloud, Propel PLM also allows users to evaluate and validate workflows from their phone, tablet or laptop due to its cloud-based deployability.
Rounding Up!
For any business, when they choose the right PLM software, they can expect to see improvements in the following areas:
Integration and collaboration
Standardization of processes
Ability to meet deadlines and milestones
Customer retention
Transparency inherent in your dealings with your global partners
Overall product quality
Therefore, choosing the right PLM software can decrease costs and improve profitability. Propel PLM can be a suitable choice for mostly small businesses looking to improve their ongoing product support and have a more collaborative and consumer-oriented approach that focuses heavily on Product Information Management (PIM). However, fewer upgrades each year may limit the scope of additional capabilities.
On the other hand, Oracle is a world-recognized technology company with a strong financial growth and increasing global customer base. Moreover, Oracle Fusion Cloud automatically upgrades each quarter, which means rapid improvements, bug fixes, and new functionalities. Additionally, the data is secure with Oracle graded security features, and the interface is extremely user-friendly. Lastly, it is accessible everywhere, ensuring all employees are connected and up to date.
Oracle Fusion Cloud software aims to assist enterprises to boost product innovation, improve product design and delivery, and support profitable growth by optimizing their global product networks. The platform is designed to meet unique industry needs, covering key industries such as consumer goods, industrial manufacturing, semiconductors, and pharmaceuticals.
If you want to learn more about Oracle Fusion Cloud, you can download our guide!
| | | |
| --- | --- | --- |
| Properties | Propel PLM | Oracle Fusion Cloud |
| Interface | Like Salesforce.com | Extremely-user friendly |
| Price Range | N/A | N/A |
| Hosted on | 3rd Party Cloud | Oracle's Own Cloud |
| Supported on Mobile | Yes | Yes |
| Collaboration | Yes | Yes |
| Social Network | Yes - Salesforce | Yes - OSN |
| Integrations | Limited | Oracle's own integration connects with numerous including GoSaaS Engineering Cloud Vault, multiple ECAD and MCAD adapters, ERP MES, HCM, CRM and others |
| Commercialization | Yes | Yes |
| Change Management | Yes | Yes |
| Workflows | Fairly Customizable | Yes - Quite Customizable |
| Innovation Module | No | Yes |
| Compliance Module | Yes | GoSaaS EG&C |
| Customer Size | Mid-Market to Multi-national Level Enterprise | All |
| Popular Industry usage | High tech, Medical Device, Consumer Goods, Industrial Products | All |
| Free Trial | No | No |