Are you suffering from meaningless or erratic data? Do you face issues with data quality and operational inefficiencies? Are you looking to improve your product's marketability or decrease your compliance cost? Oracle's Product Data Hub (PDH) is the solution for you!
The Product Data Hub is a single product storage source that can consolidate and control all functional units by facilitating businesses with tools to integrate the entirety of their product data from various systems into the central hub. The PDH fulfills data quality and standardization requirements through the Oracle Enterprise Data Quality (EDQ).
The EDQ is a data quality platform that delivers goal-oriented information for several data domains. The PDH also offers integration services that help share production information both within the organization and with external business associates. This state-of-the-art solution enhances your capabilities in governance and data security. It also allows you to control quality tools to collaboratively manage data through the system.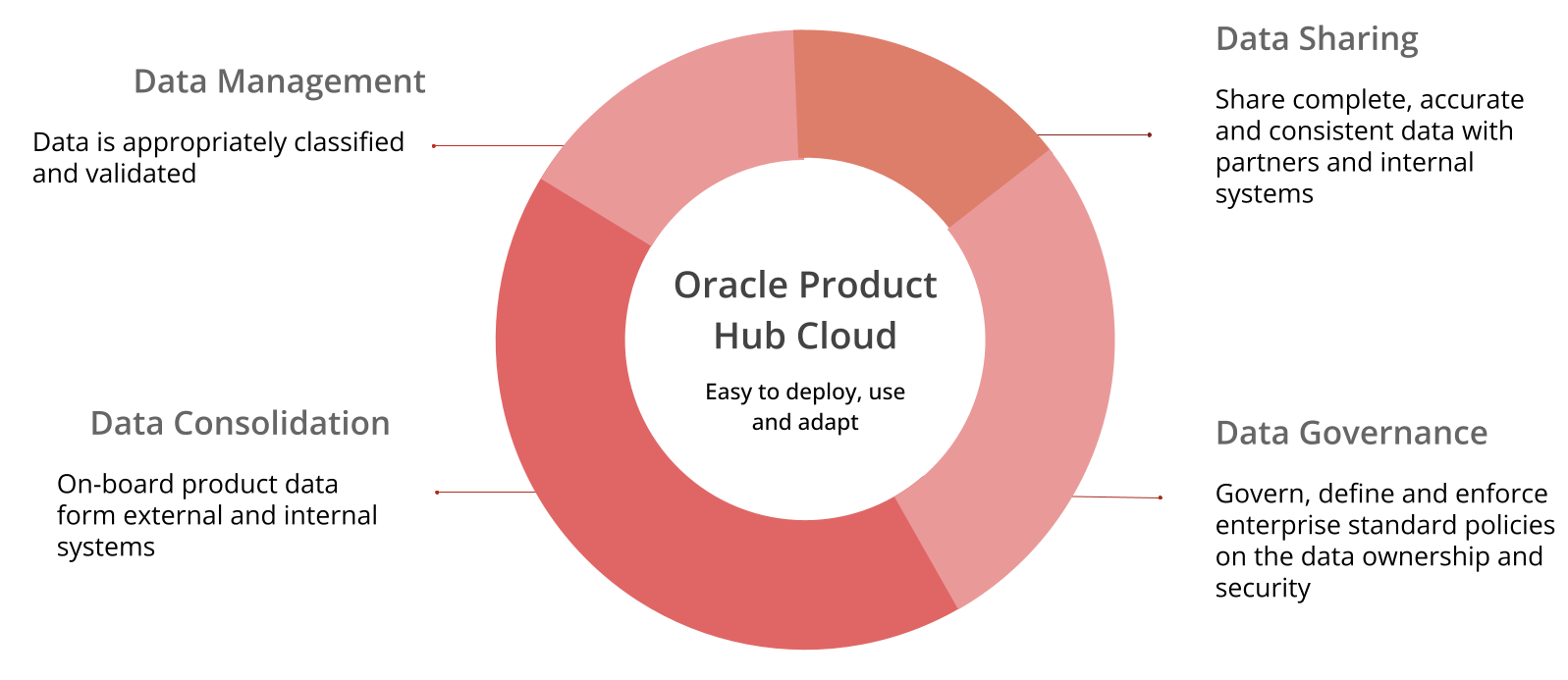 Trusted Product Information
Often, organizations undergo problems in terms of data duplication, version inaccuracy, and hindrance in accessing information. The Product Data Hub improves operational efficiency through its central repository to deliver the capability to:
Integrate both the supply and sales aspects of the supply chain product records to securely stock product information of all finished goods
Combine products and components in a central system to serve as an inside product catalog for all applications in order to manage product specifications, documents, and configurations
Keep a reliable source of product information with a cohesive product data quality collected on the basis of verified business rules so as to ensure clean, accurate product information
Enhance Product Marketability
Competitive pressures, cost challenges and customer expectations are driving companies to accelerate time-to-market for new products and services. Having accurate information and repeatable, reliable product introduction processes, allows companies to realize revenues faster, increase market share and enhance brand image. Establishing a single source of product information will provide consistency in product launch, accurate and complete information across sales channels, ultimately ensuring a differentiated customer experience. Oracle Product Hub provides key productivity tools to efficiently manage new item introduction:
Workflow-driven process automation allowing the extended enterprise and third parties to participate in the product definition and enrichment processes, ensuring data accuracy and enforcing repeatable best practices
Exception-based product change processes which automate product updates whilst requiring user review and approval on exception basis based on business policies, e.g. if price change is more than 1%, then route for approval, otherwise apply change
Mass creation, maintenance and approval of items via pre-built user productivity tools and inheritance framework to rapidly generate or apply changes across multiple items whilst consistently applying business rules
Single data import user interface for managing data staging processes across all data sources – internal and external with support for high volume data loads or excel integration to simplify smaller loads for business users
Share Accurate Information with the Extended Product Value Chain
Taking collaboration across and beyond the enterprise establishes a strong foundation for better content management. Efficient synchronization of accurate product data with internal systems, and with customers and suppliers is critical for enabling the product value chain throughout demand and supply chain operations. Oracle Product Hub serves as a platform for collaboration and integration of all processes in your value chain that touch product from design, to supply, to production, to sales, and provides:
Granular role-based access based on job function, product responsibility and type of data, allowing both internal and external parties to securely access and maintain information about their products
Embedded integration services – web services, APIs and business events – to drive accurate product information to the extended enterprise
Publication workbench to streamline the process of batching and tracking of data and metadata from the hub to consuming systems
Prebuilt common objects and services with integration to E-Business Suite, Siebel CRM and

Agile PLM

with AIA Integration Packs for Product Master Data Management to simplify and accelerate business process integrations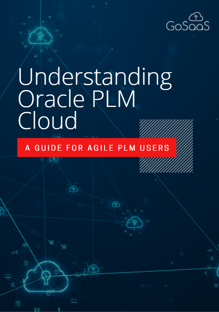 Understanding Oracle PLM Cloud
Learn about the Oracle PLM Cloud and its modules.
Enforces Effective Data Governance
Oracle Product Data Hub provides the necessary tools to develop, monitor, and enforce corporate standards and rules on data ownership, security, and quality, as well as essential business processes, for effective governance of product master data.
Using role-based and data-level security, enterprises may manage access to product information at the granular level. Product attributes, linkages, categorizations, and organization assignments may all be validated using a sophisticated business rules framework. Data stewards can examine the impact of new or updated business rules before they are implemented using a graphical rule-impact analysis. Customers may control their product definition and change management processes according to their organization's structure and business standards with a flexible and adaptable workflow management framework. There is audit trail visibility and faster release of modifications on future dates using Revision Management and Effectivity information, allowing business processes to implement the changes in a timely manner.
Finally, data stewards may do real-time analysis and produce ad-hoc reports to gain a better understanding of their governance efforts and highlight areas for future development.
Lower Cost Deployment with Faster Time to Value
Oracle Public Cloud, allows companies to shift their costs from capital expenditure to operating expenditure, allowing them to concentrate on their core competency of using the application rather than on hosting, maintaining, and upgrading it. Due to the fact that it's a SaaS model, organizations will always have the most up-to-date functionality and cloud can provide support for best practices. Using Oracle Product Hub, businesses can stay on top of the newest technology by receiving quarterly updates. In order to guarantee that the clients' corporate data is safe from both external and internal threats, Oracle employs a wide range of advanced security and risk management solutions. The availability of granular and secure public web
services along with the ability to import and export product information in various file formats enables customers to exchange data with any of their applications on-premise or on the cloud. All of these factors lead to a faster-time to value, reduced costs, lower hassles without compromising on the functionalities and the capabilities.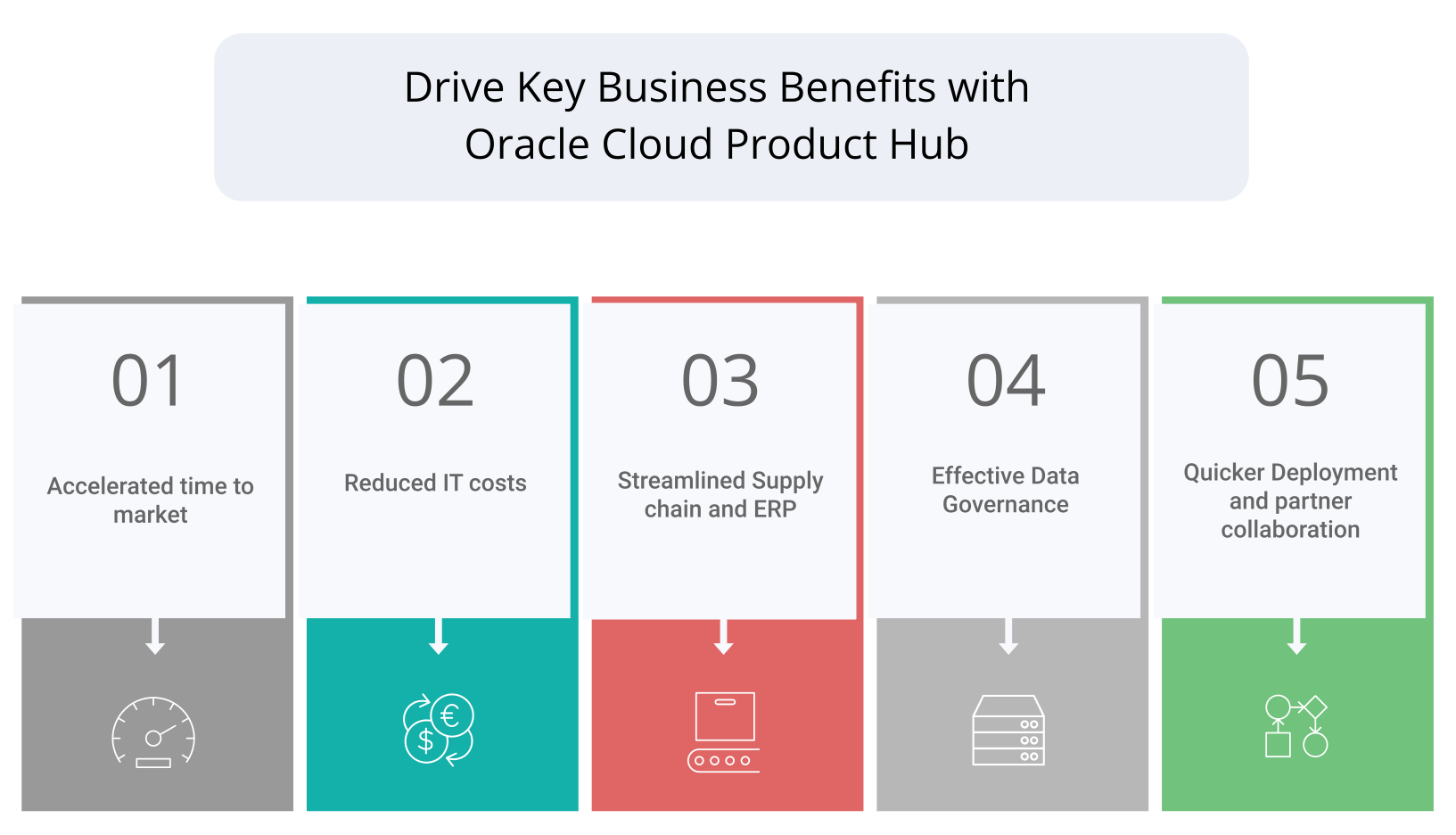 As an enterprise's primary tool for managing product information, Oracle Product Hub is a standout due to its ability to consolidate and disseminate product data, author product information natively, manage digital assets, validate business rules, and enforce governance processes. Once implemented, businesses will begin to see the following results:
Unified product definition and management in one place
The ability to access and search product information throughout the enterprise in a secure manner
Access to consistent, verified, and accurate product data in operational and sales channels
Reduced time to market with faster product innovations
Reduced manual processes and transactional errors
Regulatory compliance while improving data quality
A streamlined route to expansive cloud adoption
Adaptability and agility to fulfill new business requirements in a changing IT landscape
Want to see Oracle's PDH in action? Click here to schedule a demo with us!
Want to read more about PDH in the digital thread? Click here.