It may be argued that a company's most valuable asset is its workers, and that investing in their training and development is critical to maintaining corporate growth and success. When considering the extensive processes that firms go through to seek and hire talented employees, this commitment makes sense. Businesses should recognize and encourage their workers' personal growth and development. In order to convert moderately skilled employees into eventual leaders, several high-performing organizations have developed staff training and development programs.
Given below are some of the benefits for an organization if they invest in employee training and development, as well as how to implement a successful employee development program.
What is Employee Development and Training?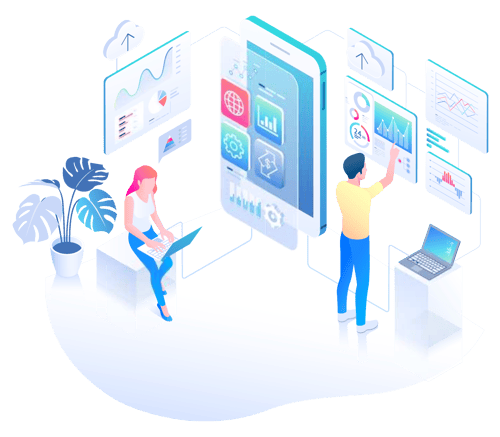 Employee development and training is the process of spending time, energy, and resources strategically in the advancement of employees. Employee training and development is, first and foremost, about learning which includes software skill building, workflow improvement, and even job shadowing.
Training and development refers to organizations' official, continuing attempts to enhance their employees' performance and self-fulfillment through a range of educational methods and initiatives. While the terms training and development are sometimes used synonymously, there are important distinctions between the two that should impact how executives approach performance improvement. To put it simply, training focuses on internal corporate goals and processes of imparting new knowledge and abilities to workers in order to enable them to execute their jobs more effectively, whereas development focuses on broad abilities like communication, leadership, and project management that can be applied outside of the company role.
What Makes a Successful Employee Development and Training Program?
Effective staff training and development initiatives extend beyond the traditional orientation for new hires. These are not ad hoc courses that staff periodically attend when necessary. It's taking a purposeful, coordinated, and systematic approach to training that matches individual development with management objectives. In order to achieve operational goals, such as improved performance, productivity, quality, and customer happiness, the management can invest in a good training program.
Some of the main benefits of a robust training program for an organization include:
Centralized system for all employee documentation
Easy access to your organization's overall learning progress
Easy tracking of employee training
Increased efficiency that results in financial gain
Increased capacity to adopt new technologies and methods
After determining the company's training requirements, a training strategy can be developed. The training program should incorporate the following components:
A brief description of the training curriculum
The training program's goals
The training program's curriculum
The training program's schedule
The training program's logistics
The training program's expenses
After the training plan has been created, it's time to put it into action. While this might be a difficult procedure, it is critical that all staff receive the same degree of training. Additionally, organizations may need to give additional assistance and resources to ensure that workers finish the training program effectively.
With GoSaaS's ETS, employee training and development can happen at a single centralized platform. Moreover, it is integrated with Oracle PLM Cloud for efficient creation and maintenance of the training material. ETS can bring a positive change in the performance of your organization in the following ways:
Provides employees with same role identical training
Helps managers keep track of completed or pending training
Personalized automated notifications creation
Synchronized with PLM
Robust notifications framework with comprehensive reporting
Audit Trails
Course Approvals by Managers
Course Completion Approvals by Managers
Create an Effective Employee Training and Development Program with GoSaaS ETS
How to Implement Employee Development and Training Programs Effectively?
Once companies are invested in the future success of their organization and are convinced of the value of employee training and development, it's vital to understand the important steps that have to be considered before implementing an effective training and development.
Given below are some factors that must be explored before companies train their employees.
Assessing business impact: What is the ultimate objective of the business? Addressing this critical question can assist organizations in developing a training and development strategy that, rather than focusing on immediate objectives, frames objectives around demonstrable results.
Evaluating skill gaps: What are the most essential qualities and skills to any given position? When the areas in which team members' existing skill sets fall short of their intended or most effective skill sets are pinpointed, companies may more precisely define the educational goals that should be pursued.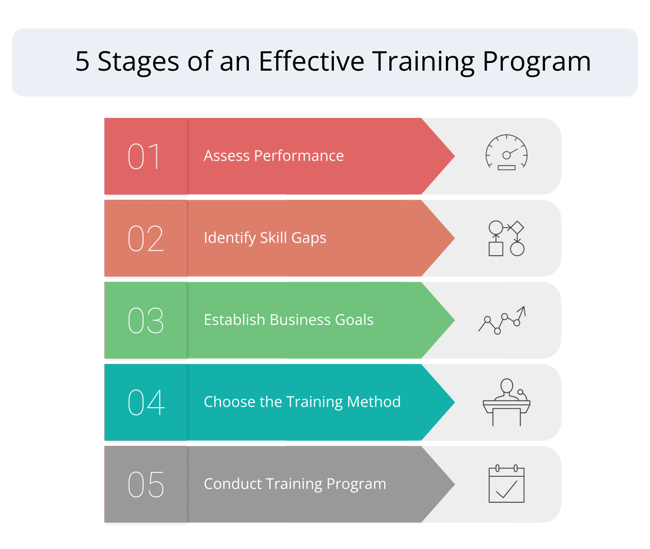 What Are the Benefits of Employee Training and Development?
In today's competitive world of business, astute business executives must constantly seek methods to acquire an advantage. While leadership, financial investment, market share, and product and service offerings are all critical, employees in an organization are vital to a company's growth and profitability. Training and development helps companies attract and retain top talent, improve job satisfaction and achieve many more positive outcomes.
Given below are some of the benefits achieved by employee training and development.
Employee Retention
Retention is a major challenge for employers but retaining workers can be achieved through career development. In fact, training and development has become so centralized within businesses that it is often used as a competitive advantage when hiring. Offering career development initiatives helps employees establish a sense of value within the company and fosters loyalty, ultimately resulting in increased staff retention and a 59% lower staff turnover rate.
Building a More Skilled Workforce
Employee training programs assist employees in enhancing their knowledge and abilities to keep pace with industry developments. These enhancements will have a favorable effect on worker productivity, which will raise an organization's revenues and efficiency.
There are several benefits to implementing formal training programs for employees who will be advancing up the corporate ladder and taking on greater responsibility. Taking part in these courses will help them develop the knowledge and abilities needed to succeed in their new roles. Some examples include leadership training or the adoption of a certain software program that they will be using in their new position.
Enhancing Business Profitability by Maximizing Employee Performance
Underskilled employees can cost businesses valuable time and money. Liabilities from employee errors, redundant tasks, and inefficient processes are all major sources of lost capital for even the most well-run businesses. Employee training and development programs may help businesses retain valuable employees, minimize turnover, save on hiring expenses, and optimize revenues by helping them cultivate the talent they currently have.
Employee training and development programs can reveal strengths and shortcomings that weren't evident during the recruiting process and assist bridge any skill gaps to enhance performance. In addition, firms benefit from having personnel who are up to date on the newest skills and technology.
Improving Workplace Engagement
Employee boredom may lead to undesirable work habits and feelings of discontent if left unchecked, so it's important to find strategies to keep workers engaged. Preventing workplace inactivity through frequent training and development activities may assist companies in conducting regular evaluations of their people, skills, procedures, and other relevant aspects of their operations. To further affect business culture, it encourages companies to look at their current workforce for potential growth and development possibilities rather than relying solely on hiring new employees.
Forbes analyzed empowerment and employee engagement using data from nearly 7,000 employees and found that employees who felt under-empowered had engagement scores in the 24th percentile, but those who felt empowered had scores in the 79th percentile.
Attracting Top Talent
A company that places a high value on employee training and development is much more likely to attract the best and the brightest talent. According to a report from Gallup, job seekers place a high value on staff training and development. Therefore, employee training and development may have a positive impact on a company's ability to retain and recruit top personnel.
There is a direct correlation between higher sales and doubled profitability for companies that invest in their employees' development. A company's financial success depends on a well-trained, competitive, and engaged staff, and dedicated training and development supports this. In addition, 93% of employees will remain with a firm for a longer period of time if it provides opportunities for professional growth. In order to attract and keep the best employees, training and development helps firms enhance productivity, boost morale, and raise profits.
To learn more about GoSaaS Employee Training System, book a demo with us!