At times, due to system limitations and software issues, businesses with Oracle E-Business Suite (EBS) may feel the need to replace it with cloud-based ERP systems. This could be a lengthy, tedious, and costly process, leaving business leaders in a dilemma of whether the investment of replacing Oracle EBS would result in a timely ROI.
However, sometimes sticking with the current system may be the best option, especially given the current economic climate. In such cases, we recommend the following simple changes that will optimize the functionality of your system:
Performance Tuning and Infrastructure Upgrades
Good Performance of your Oracle EBS is of paramount importance for a smooth and effective business flow. Deterioration of your platform will lead to a lower performance, directly affecting the productivity and accuracy of the system. Instead of replacing the whole system, at times, it is a better idea to upgrade the underlying technology being used. This will simply be an increase in the number of servers, storage space, an improvement in the network connectivity or a lift-and-shift migration to a cloud infrastructure. These steps will allow the system to breathe again and step up its performance.
Software Patches and Updates
Oracle is striving to make their products stand out among its competitors, hence they release new software updates with added functionalities, improving the overall efficiency of the product. These added functionalities could range from simply fixing bugs, help patch security flaws or including features in Oracle EBS that could increase the efficiency of the business through better performance or easy task handling. But at times these updates are ignored as they may give rise to newer problems. Luckily, there is a solution to this issue. Whenever you are updating your EBS, your organization may learn to develop a process to test those updates before they intervene with critical system activities. Businesses could test the updates by implementing them in phases or create a backup of the whole data and run a trial update. This will ensure your critical data and activity remains unaffected by the new update bugs.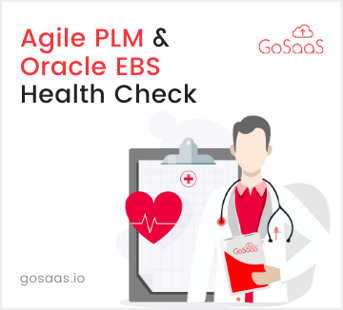 Watch our webinar replay "Are Your Agile PLM and Oracle EBS Applications Healthy?" to learn just how we can help you uncover the cause of performance issues and provide detailed recommendations.
View Replay
Extend your Oracle EBS functionality by Using Pre-Built Add-ons or Build One Outside of Oracle EBS with GoSaaS and Integrate Them
Digital Transformation is changing the business models in every field due to current unprecedented times. If you feel that your current Oracle EBS is not addressing the new realities of the business then enhance it with specific external functionalities or extend EBS with Pre-Built Add-ons. These add ons can include data exchange facilities or customer-facing technologies. With modern tools like our GoSaaS Integrator or Oracle OIC, you can easily integrate with other systems in a short span of time. Our GoSaaS tools and platforms will allow you to connect seamlessly with EBS to provide your organization with an essential functionality.
Training and Best Practices Assessment
It is fairly easy to think that we know all about our system and how to maximize on the investment from it. But it is essential for companies to get a consultation from experienced consultants because the insights of experienced workers can be of a greater value. It will not only help you identify the risks by a thorough GoSaaS Health Check but also ensure how new ideas and opportunities will effectively work around the current system. A much deeper understanding of your platform will allow you to realize the true worth of your system.
System Performance Testing
Systems running for a long time may become slow and unfit. A slow performance system reduces efficiency, accuracy and the speed of executing the processes, causing problems for businesses. Hence, it is essential for Oracle EBS users to test their systems periodically to identify and resolve the performance issues before they start risking your overall business.
If you are experiencing difficulties getting the maximum out of your Oracle EBS, contact our experienced team at GoSaaS for a Health Check. Our Technical Health Check consists of an Architecture Review, System Performance Testing, Database Parameters Evaluation, and extensive recommendations.
To learn more about the health of your Oracle EBS, contact our GoSaaS team.