The COVID-19 pandemic came in with no warning, leaving us all affected in unconventional ways. The "new normal" today has left us with limited exposure & access to the business world. To survive in this pandemic, customers and employees not only have new needs but have adopted new behaviors and approaches. Work and work patterns have changed as remote work has become the new norm. In these times of change, Business leaders have to revamp the way they work and be proactive when deciding how to manage employees and in understanding new customer needs. Business leaders have to be extra vigilant and ensure that every employee has the required devices to continue working and that the company applications are up to date in order to resume smooth operations. As employees adjust to working from home, the predicted peak load time on applications will change as usage patterns change.
While adapting to working remotely is a challenge in itself, the change in customer needs, behavior, and demand is another big issue to deal with. Panic buying has become common as customers now prefer to buy in bulk to reduce store visits. Most purchases are also online to reduce exposure. The change in consumer behavior and general safety has impacted supply chain management as well. Manual approvals and checks have become difficult. Delivery times due to lockdowns have also changed. These changes have resulted in a greater load on the company applications and also multiple peak load times.
With these major shifts in trends, the company applications are bound to be under extreme pressure. It is possible to face problems such as forgetting to run essential security patches or testing privileged access that may disclose sensitive information. Furthermore, with increased load, the speed of the application may be affected. Recurrent severe errors are also likely to reduce productivity. Work from home may be keeping the company working, but in the case of a physical disaster and untested or non-existing backup, the company is bound to collapse.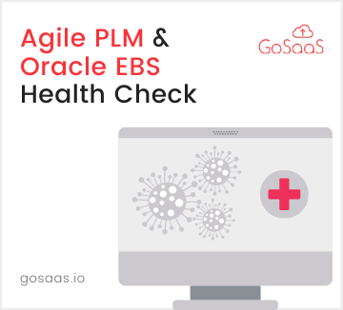 Worried about the health of your Oracle Business Applications? Watch our Webinar Replay "Are Your Agile PLM and Oracle EBS Applications Healthy?" Watch Now
To ensure that your applications work best, action plans should be created and categorized into two: Quick fixes and Medium to Long term fixes. Quick fixes would include recommendations that can immediately boost the performance of your current applications. for example, an increase in heap memory, or the solution to high latency on a database server. Medium to Long term fixes could be choosing to upgrade your application or migrate the database. By categorizing and actively implementing such fixes, your applications are likely to pass the pandemic pressure with ease.
If you're a user of Oracle Business Applications and would like to ensure your applications remain top-notch and do not crumble under the pandemic pressure, GoSaaS has developed a process to assess the health of your Oracle Business Applications: Agile Product Lifecycle Management & Oracle E-Business Suite and provide an Architecture Review Report. Our GoSaaS Health Check will uncover the causes of any technical issues and will provide a detailed report with recommended remediation actions. Contact us to book a complimentary consultation.