Why is GoSaaS your go-to implementation partner?
GoSaaS is a certified Oracle PLM Cloud and Agile PLM Partner and has worked with more than 250 customers across both platforms to implement best practice Product Lifecycle Management capabilities with experience of over 15 years.
High number of implementations in Oracle Cloud PLM in production
System implementation can absolutely be carried out in modules/phases
Oracle PLM Cloud offers multiple outstanding capabilities that allow companies to scale
Most important thing for a successful PLM system implementation:

Executive sponsorship, clear understanding of the commitment from the super user team on the project. Inclusive of that, GoSaaS communication and project status is very efficient to ensure everyone is on the same page.
Cloud Implementation Methodology
Our implementation methodology, is based on our team's experience of hundreds of successful PLM implementations, is minimally invasive and ensures successful organizational acceptance of the solution. The following are the key steps that GoSaaS proposes for this project:
System Provisioning: GoSaaS assists clients in coordinating with cloud ops to provide the appropriate cloud environments for non-production and production environments.
Pre-Migration Training: Prior to having migration workshops, we have found that product training for business process owners who would be making decisions about migration to the cloud results in much better input and decisions from business process owners.
PLM Migration Workshops & Functional Design: GoSaaS's Subject Matter Expert (SME) facilitates workshops which are attended by relevant process area owners. The objective of the workshops is to collaboratively determine how the client's current processes can be optimized and mapped to relevant cloud modules. After the workshops, GoSaaS's team documents the migration plan of the system and gets it approved by the client.
GoSaaS's proven methodology for gathering requirements from different business stakeholders includes:
A series of workshops are held with the appropriate business users
Each workshop covers a specific topic so that the relevant people may be included
The topics are refined with examples and the users are lead through the topics with detailed discussions about requirements and nice-to-haves
Also, if the customer is already using a PLM system, we include the current configuration and business processes in the discussions to identify what is working and what needs to be changed
Configuration: Based on the migration requirements, GoSaaS migrates the configurations from legacy systems to cloud systems.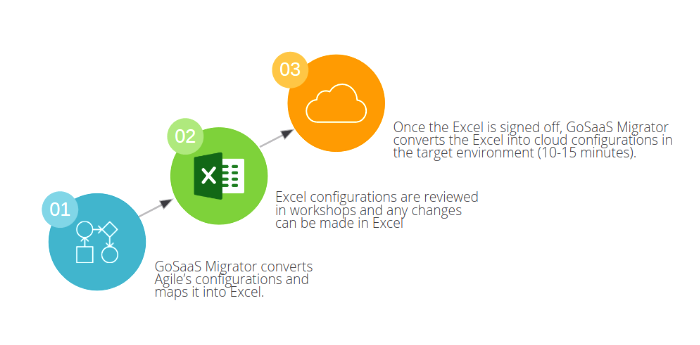 Data Migration: Based on requirements, GoSaaS extracts data from legacy system(s) and migrates it to cloud using cloud provided import tools and/or GoSaaS Migrator toolkit. GoSaaS and clients to test the process with partial data before doing a complete data load to help in identifying any issues which may need to be fixed. This process may need to be repeated.
Conference Room Pilot(s) (CRP): Once GoSaaS has configured the system, we request key process owners who participated in the migration workshops to test if the configurations have been done properly. In order to keep this step focused, GoSaaS provides CRP scripts which focus only on the processes being implemented in the system. At each step, the scripts also provide a mechanism to capture feedback. Depending on the feedback from a CRP, this process may be repeated a second time "CRP-2" after making configuration adjustments. The second CRP usually also involves more real data to be available for testing.
User Acceptance Test (UAT): Once the process owners have validated the system through CRPs, a broader set of users are involved to test the system and provide any feedback that may have been missed.
End User Training: GoSaaS provides end-user training material to enable you to deliver the training
Go-Live: Usually this activity starts on a Friday afternoon when changes to the legacy system are disabled and complete data extraction, transformation and loading takes place. Once the system is ready, it is made available to key process area teams to validate the system over the weekend to make it available on Monday to end users.
Process for deployment of configuration, documentation and methodology:
The process starts by getting requirements from clients. As per the requirements GS-Migrator is used to configure the test/staging environment. After implementing it and migrating the data clients are requested to run CRP scripts (to make sure if everything looks in sync with what they need) and log CRP issues/updates (if they find any). Logged issues/updates are applied to the system either manually(if requires quick setup) otherwise doing GS-Migrator. We also update the requirements sheet by maintaining versions of the file. Clients are requested to look into the system and approve the applied changes.
After getting approval. Configurations are exported from the Test environment and are migrated to production with the help of GS-Migrator and hence the configurations are deployed.
Post Go-Live support: Although most end user requests after go-live can be handled by client's internal teams by the time the system goes live, GoSaaS's implementation team remains available for a limited number of days to assist with any requests which may hinder adoption. This type of support can be extended for longer durations or even permanently through a separate maintenance and support contract with GoSaaS.
Implementation Best Practice
Have participation & commitment from executive management
Obtain commitment at all levels for organizational change management and foster a willingness to adapt to a set of common, improved processes
Secure sufficient participation from users during design and deployment
Start with a clear understanding of specific project success criteria
Have a clearly defined and well-managed scope
Take a comprehensive approach to validation, from both a process and system perspective
Leverage the functionality and best practices of application software functionality
Reduce rollout risks by phased business releases impacting small number of users
Ready to make the move to Cloud? Book an appointment with us today!